Golf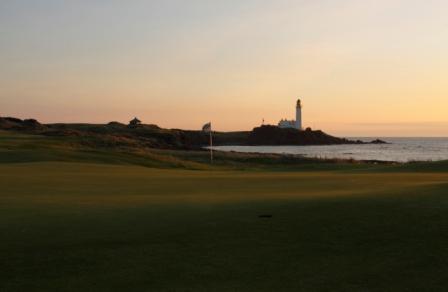 Ayrshire and Arran has a world-class golf offer that spans from its internationally renowned Open Championship courses with unique heritage, through to relaxed, accessible holiday golf experiences set in fabulous landscapes. This offer is already a core strength and attractor for large numbers of high-yield visitors. However, there is a growing level of competition from many other destinations and development activity is required to stay ahead of the competition.
Golf is a hugely popular sport around the world. Over the last 20 years, the number of registered golfers in Europe according to KPMG has increased from 1.5 million to 4.4 million in 2011. There are over 32,000 golf courses to choose from worldwide and according to Mintel (Leisure Intelligence 2009), approximately 56 million golfers play on them. Mintel also estimated that in 2009 over 63 million golfing holidays were taken, with a total value of £16.4 billion.
The Tourism Team will work in partnership with key agencies such as Golf Tourism Scotland, Scottish Golf Union, VisitScotland, EventScotland and Scottish Enterprise to deliver a range of initiatives spanning product and business development, marketing, research, and industry collaboration to meet these challenges.
In particular, the following areas of action will be addressed over the next two years:
Research & Benchmarking
• Undertaking focused research to develop a clear and robust picture of the sector, capturing data on turnover, visitor income, profile etc to inform future growth potential
Regional Golf Development
• Supporting development of a strong, private sector-led Ayrshire & Arran Golf Development Group to drive development and marketing of golf tourism in the region
Business Development
• Supporting golf clubs to develop a structured approach to visitor golf through participation in Scottish Enterprise's "On the Tee" initiative
Online Tee Times
• Catalysing activity amongst golf clubs to invest in online tee time booking systems to ensure that potential visitors can plan and purchase golf easily
Product Development
• Fostering collaborations between courses, accommodation providers, and tour/travel providers to develop and market golf tourism offerings
Marketing
• Delivering a range of marketing and PR activity targeting domestic and international golfers, and tying in with VisitScotland's national golf marketing plan.
• Ayrshire & Arran will be promoted and showcased at several major golf tournaments; Royal Birkdale 2014 – Women's British Golf Open, Turnberry – Women's British Golf Open 2015, The Open – St Andrews 2015 and The Open – Troon 2106.